In September 2019, Thu Rein Oo – executive chef at Clayton fine dining establishment The Crossing – won the Chef Battle Royale at the annual "Taste of St. Louis" festival in downtown STL…for the second time in a row. He beat out some of the most prestigious chefs in town, but how did he get there?
Turns out, his story starts out halfway around the world in Myanmar. A Southeast Asian nation formerly called Burma, it's been plagued by the longest-lasting civil war in the world today. Beginning shortly after the nation's independence in 1948, the war has claimed thousands of lives and displaced many refugees…including Thu Rein, who left in the summer of 2004.
Thu Rein went to Malaysia, where he moved from place to place (Malaysia has no refugee camp) for around two years. In 2007, he moved to the United States, and joined his uncle – another refugee – in Indianapolis. There, he went to high school at the age of 19, completing a year before moving to St. Louis in 2008. By this point, he'd never worked in the culinary arts.
"I never worked in a kitchen in Indiana, or even in Burma," Thu Rein says. "I moved to Malaysia, and worked there in a garden…there was cabbage, green beans…that was it until St. Louis."
He was told he was too old to finish high school, and he found that a GED wasn't for him. So Thu Rein began looking for a job in any field, emphasizing his willingness to do any work that was needed. One day, his friend mentioned a restaurant in Clayton that was looking for a dishwasher, and he jumped on the opportunity.

"My friend, he was also a refugee, working for Jimmy (Fiala, owner of The Crossing)," Thu Rein says. "He's looking for a worker, and he comes in to talk to me. He asked if I could wash dishes, and I said I could do anything. So I came here."
Thu Rein started out washing dishes in the back – by this point, he spoke almost no English. So he worked six days a week, including day shifts. It was during these times that business was slow, so he started going to the salad station to watch how the cooks made salads. Realizing he had an interest in food, he began working to make them on his own in his spare time.
He washed dishes in the back for a year, until his manager saw his work and decided he'd honed his skills enough to work at the salad station. After a couple months here, he repeated the process, observing the way fish was prepared and cooked. His manager further encouraged this, and he dabbled in different stations – fish, desserts, pasta, then grill – until he became proficient enough to move up to each station…step by step. Along the way, he not only learned English, but also cultivated his taste for creativity and innovation in the dishes he was learning to prepare.
"People showed me to cook something," Thu Rein says, "and when I looked at that dish, I got ideas in my head. Then when I created by myself, I was thinking about…different sauces, special pastas I'd make. Then I'd show my chef, he'd taste it and say 'oh, that's delicious, you can do that special.'"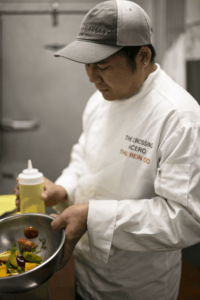 By doing this, he not only showed his willingness to learn new things in the kitchen, but he also demonstrated his skills to his manager. However, it wasn't all easy – he describes the most difficult part of his culinary journey was cooking meat – he found it tricky to tell how well-cooked a piece of meat was by temperature instead of looking at it (and who can blame him?) – as well as multitasking between stations. However, his intuitive knowledge of flavors and variations on recipes guided him toward the head of the kitchen.
"I don't know how, but when I think of something coming that's already put together, I already know what flavor's coming," Thu Rein says with a smile. "Like when I was cooking meat, I thought, 'what kind of meat, and what flavors or sauces would go good with it?' And the tastes were already in my head."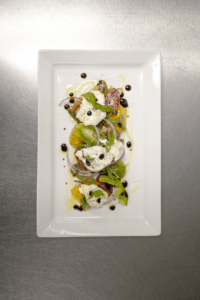 A key component for any good chef is the ability to imagine. The passion to move up in the kitchen and the ability to back that up are useful, but being able to imagine flavors, combinations, and ways to make a great dish even the tiniest bit better is one of the greatest strengths of a head chef. And Thu Rein demonstrates with every plate that he has that skill.
Matt Glickert, executive chef at, Sugarfire Wentzville & Sugarfire 44 in Valley Park, knows a thing or two about food. After all, he was recently voted by readers as Sauce Magazine's "Chef of the Year," an enormous feat. So how did one of the best and quickest-rising chefs at St. Louis get his start?
Glickert – a St. Louis native – began his culinary career at age 15 at Cardwell's, one of the premier restaurants in St. Louis before its closure last year. However, his passion for food began long before that, and he credits it with carrying him on his path to becoming one of STL's top chefs.
"Even when I was little, I was always outside with my grandmother, learning how to garden and eating stuff straight from the plant," says Glickert. "That was just something we did together."
His time at Cardwell's, an experience he describes as "humbling," was (among many other things) a chance to continually fine-tune his craft. There, he learned lessons from legendary St. Louis chef Bill Cardwell that he continues to use today.
"You learn how to curse well," he says with a laugh. "But more than anything, you just learn how to be a chef. I jumped on young, and I just wanted to be like him. It was something I strived for every day."
At age 20, he was accepted into the esteemed New England Culinary Institute. With a list of alumni including world-renowned chefs, it's a small school – the ratio of teachers to students is around 1:6 – and a highly selective one as well. Glickert credits his acceptance there as a combination of letters of recommendation, years of previous experience in various kitchens, and his natural passion for cooking.
During his time at the institute, he learns what he calls the "technical aspects of cooking" – various ways to handle and cook different kinds of food – which he says helped him hone his craft immensely. However, he also says there's no substitute for simple, old-fashioned cooking experience, and he worked to apply the lessons he learned at New England Culinary Institute to the kitchen.
"Going to culinary school doesn't make you a chef," says Glickert. "Working in the kitchen makes you a chef."
When he did return to St. Louis, he became sous chef at BC's – Cardwell's other restaurant – by age 23, three years ahead of his plan. In 2015, Sugarfire 44 opened in Valley Park, and he became sous chef there at age 25.
And that's not the only goal he's surpassed. He says he planned to become an executive chef by age 35 – at 29, he's hit that goal early as well. He credits being open and honest with his staff as the key to being an effective executive chef of a kitchen, and says it has a "hospitable" effect on both customers and staff when it all comes together.
Does Glickert think he – and Sugarfire – meets the standards of success? "I think we're exceeding it," he says with a smile. "I think when 11 o'clock rolls around and there's 45 people waiting to get in the door, that tells me we're doing things right. And when that line doesn't stop until 8:30 at night, I think it proves that we have the best food."
And now that he's Sauce Magazine's "Chef of the Year," it's probably safe to trust him on this.
Mike Risk, head chef at The Clover + The Bee in Webster Groves, has been around the block a few times.
He started like many other chefs – working in a kitchen in high school. In this case, Risk's career started in the now-closed Del Pietro's in South St. Louis at age 15, bussing tables. This was the start of a series of culinary jobs, one of which being a bar & grill that he ran the kitchen of between his junior and senior year of high school. During this time, he found a passion and a natural skill for cooking.
After a stint studying culinary arts at Forest Park Community College, an experience he simply describes as "not for him," he transferred to a steakhouse for a year, and then moved to St. louis fine dining style Trattoria Marcella at 19. There, he worked for owner Steve Komorek, whom he says helped create a major turning point in his culinary career.

At one point in his time at Trattoria Marcella, he approached Komorek about a raise. In response, Komorek added ten hours to his work schedule. Although this wasn't Risk's idea of a raise, Komorek explained that not only would he be paid time-and-a-half, but those ten hours would also become his "creative time," where instead of prepping and setting up the kitchen, he would experiment with various recipes, flavors, and ingredients, to create personal, unique foods that would expand his creativity.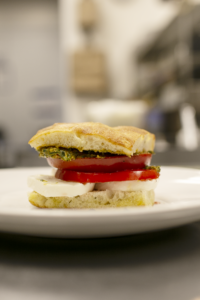 "That period right there catapulted me," describes Risk. "Everything I was doing, I came to him and was like 'I'm thinking about doing this,' and he was like 'Sounds good, but if you put this or that with it, it'll be great.' So we always put spins on the things I came in with…it wasn't what I was thinking a raise was, but I always did it because I always knew I would come out stronger."
Risk's talent for cooking didn't always come naturally, but he took full advantage of his situation. During his time at Trattoria Marcella, Risk began taking inspiration from other chefs and dishes "from the outside looking in;" not only pulling bits of recipes and techniques from cookbooks and magazines, but also studying other chefs and restaurants. He admits that it was a tough learning process at times, calling it a "cycle of figuring out how to create, what to create, what goes with what, and so on…"
In 2008, Risk left Trattoria Marcella and ran a series of restaurants for several years. In 2015, a former Trattoria employee approached him looking for help. The man, as it turns out, was sous chef at a promising soon-to-be eatery in Webster Groves called Olive + Oak. Despite having little experience in that specific culinary field, Risk accepted his offer, and helped open Olive + Oak – an experience he says reinvigorated his passion for all things culinary.
By 2017, Olive + Oak's owners were looking to open another restaurant next door to the restaurant – in contrast to Olive + Oak's formal dinner fare, their new eatery would feature a lighter brunch-y menu. Having never cooked breakfast on a professional level, Risk once again saw this as a chance for growth, and successfully applied as head chef of the Clover & The Bee. Now, he strives to make his kitchen a breeding ground of new ideas and culinary innovations, much like his days under the Komoreks.
"My job is to build the youth…my job is to get people to love it as much I love it," Risk says with a smile. "My job is to open their brains and let them see what I see, but to do that, you've got to get them there and give them free reign, and great ingredients. Now, they come to me with something, and I can say 'sounds great, let's make it,' and we do it."
Simple as that.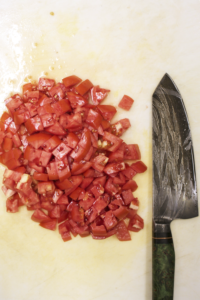 The Right Arm Man at Annie Gunn's, Sous-chef, Eddie Rickert Jr.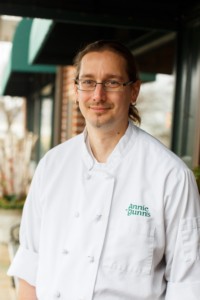 We brought you the inside scoop on Annie Gunn's executive chef, Lou Rook III. Today, we dive into the back story behind sous-chef, Eddie Rickert Jr.
Self-described as an all-hands-on-deck team member, Eddie is also the lead catering chef, the steak cutter for all of the hand cuts for the restaurant and works with the Butchers next door at the Smokehouse Market. He keeps the kitchen organized and ready to go for each day's busy service.
Eddie has been working with Lou at Annie Gunn's for 21 years. He began his formal career in cooking as a line cook at Duffy's for 2 years. After hearing the buzz about Annie Gunn's, he applied and was hired for the position of pantry cook. Two years later, he advanced to line cook and then took over as sous-chef when Lou's father, Lou II, semi-retired in 2015. Throughout his career, he has worked with over 300 executive chefs through fundraisers and private parties. He's also helped in the training of over 750 line cooks throughout St. Louis.
Eddie's always had a natural talent for cooking and describes his training as osmosis through "the school of hard knocks." As a kid, he regularly watched several cooking shows on PBS including Yan Can Cook and The Frugal Gourmet with Jeff Smith (where he first heard about one of his now favorite dishes, Osso Bucco, ( Veal shanks braised with vegetables). As a result, his favorite meals to cook tend towards the international – Asian, Italian, French and Latino. He often cared for his younger brother while his parents worked both nights and days, cooking many meals and allowing him to test out all he had been learning.
When not working, he hits Pasta House Co, (a family favorite) for the salad and the Pesce alla Fresta (pan-fried white fish with lemon white wine cheese sauce). He also frequents Monsoon Vietnamese Bistro and Fuzzy's Taco Shop.
His go-to meal, however, is back at Annie Gunn's – the pan roasted half chicken which has been on the menu since he started. Its slowly roasted with root vegetables, and finished in a pan gravy of its own juices, roasted garlic and tarragon. Digging into a plate, surrounded by a crew that feels like family makes Annie Gunn's a home away from home for Eddie.
St Louis Chef Icon, Lou Rook III
Most locals, by now, have heard of St. Louis' celebrated chef, Lou Rook III.
Rook has been working in local kitchens for 40 years. He began his career as a stock boy at age ten at his father's root beer stand. Within two short years he was cooking and thus began his love of food. In college, he developed an interest in the science behind cooking – what makes bread rise, how to make the perfect pie crust every time and what elements go into a classic sandwich.
After finishing up at the University of Missouri, he went on to graduate from Culinary Institute of America in Hyde Park. When his parents opened a white tablecloth restaurant, he moved back home and began preparing higher-end menus and cultivating an appreciation for finer foods. From there, he worked at Cardwell's in Clayton and then co-owned Grappa, a café in the Central West End for a few years.
Rook is perhaps most well-known for helming the ship at Annie Gunn's, celebrated for their dry-aged steaks and extensive wine list, for the past 25 years. He had just started working at Harry's downtown (now closed) when the flood of 1993 devastated the Chesterfield Valley, where Annie Gunn's is located. A week after it was flooded with thirteen feet of river water, owners Thom and Jane Sehnert approached him with an opportunity that would change his life. They had decided to rebuild the restaurant and wanted Rook as an executive partner. As Annie Gunn's was Rook's long-time favorite restaurant, the decision was an easy one. Just ten short months later, Annie Gunn's was back in business. It's been a hugely successful, rewarding and unusually long partnership for the restaurant industry.
Another solid relationship is the one between Rook and his father, Lou II, whom he hired a few months after re-opening to be his day cook. It was an easy decision to have his dad by his side in the kitchen, just as they had done years prior.
Rook gained national attention after publishing his cookbook, Rook Cooks: Simplicity at Its Finest, in 2014. The collection of recipes was curated to inspire home cooks to try new things and to have fun in the kitchen. Included are favorite recipes of Rook and his customers that can be easily translated from the professional to the home kitchen.
"Put on some music, make some cocktails and dig in – don't be intimidated!" he advises home cooks.
Rook's cooking style can be described as fresh and creative. He doesn't want to reinvent the wheel, but prefers instead to combine classic French technique with "New Italian" finesse, all with American cuisine as a backbone. He describes his approach to cooking as appreciating ingredients for what they are and "bending or extracting flavor." For example, his elk Carpaccio is crafted with a calculated blend of flavors. He sears elk tenderloin extra rare and balances the slight gaminess with a sweet pomegranate molasses and tops it all with mild leek microgreens, heady alba white truffles, crunchy pomegranate seeds and flavorful chive oil. This would be paired with a full-bodied Syrah from Côtes du Rhône.
Another hallmark to Rook's cooking is his commitment to and preference for just-harvested local produce.
"We do our best cooking when our local produce is flourishing. That's where the flavor comes from."
He also takes full advantage of the Smokehouse Market, located just next door, also owned by the Sehnerts. The Smokehouse is a favorite among locals in the area who drop in on their way home to pick up already prepared food or grab a great cut of meat to cook themselves. The Smokehouse butchers work with Rook to purchase the freshest meats and seafood. All of Annie Gunn's meats are sourced from the Smokehouse Market and Rook produces all of the prepared-meats for the shop. Come for dinner and take something home with you to cook tomorrow!
When not in the kitchen, which is rare, Rook might be found at his favorite restaurant, Paul Manno's Café, dining on his favorite dish, the Sicilian-style veal chop with arrabbiata pasta with peas and paired with a Borolo wine.